There is no gainsaying that when we give the kids room to express their innate abilities, we may be shocked at what they can create. One such freedom for expression is seen in painting and artwork that almost every child carries. However, some limitations may set in when it comes to the paintbrush, whether in choice of style, pattern, or type.
While there are some dedicated paint brushes for kids, we also don't want to limit their expression by stopping them from using some kids' painting brushes. In addition, a part of them wants to do certain things by themselves as a means of expression. And we will do well by allowing them to do so. Know that these kids will have a blast creating their own DIY paintbrushes from everyday materials.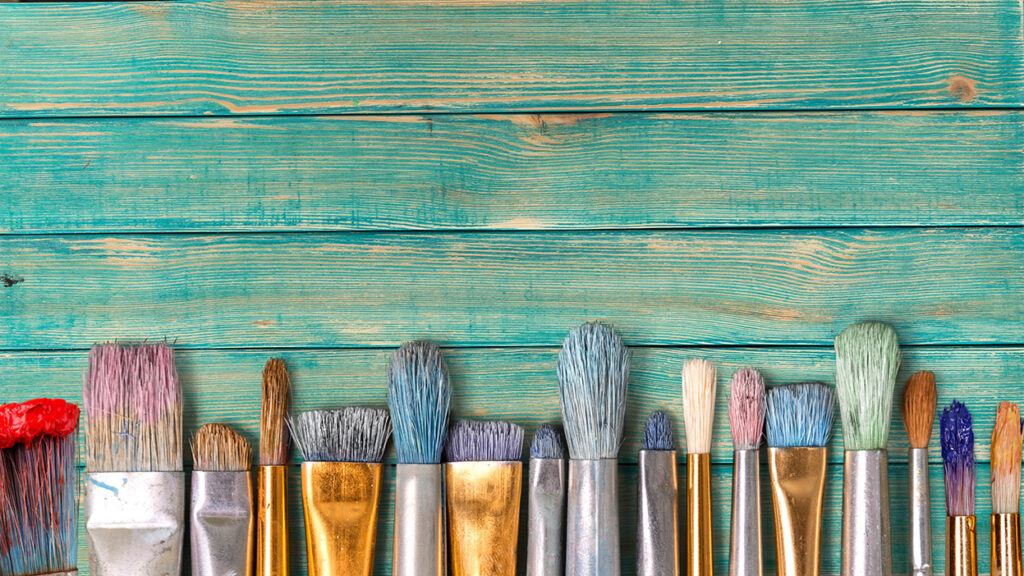 When you throw this opportunity at them to first make their own brushes, you unleash their creative potential. In addition, let them choose the kind of textures to use, the designs, and the looks to achieve. As they proceed, they will be able to manage their crafts more. As I check through what different bloggers have written on the topic, I feel we should have a more rounded article that fills up the whole. Let us first consider the process of making these DIY paintbrushes from home.
Homemade DIY Paint Brushes
Materials
Clothespins 
Scissors
Paint 
Paper
PomPoms
Cupcake Liners
Sponge
Old Credit or Gift Cards
Bubble Wrap
Burlap
Leaves
Crepe Paper
Foam 
Twine
Yarn 
Cosmetic Wedge
Scouring Pad
Feathers
Loofah Sponge
Fruit Netting
Felt
Pipe Cleaner
Cotton Balls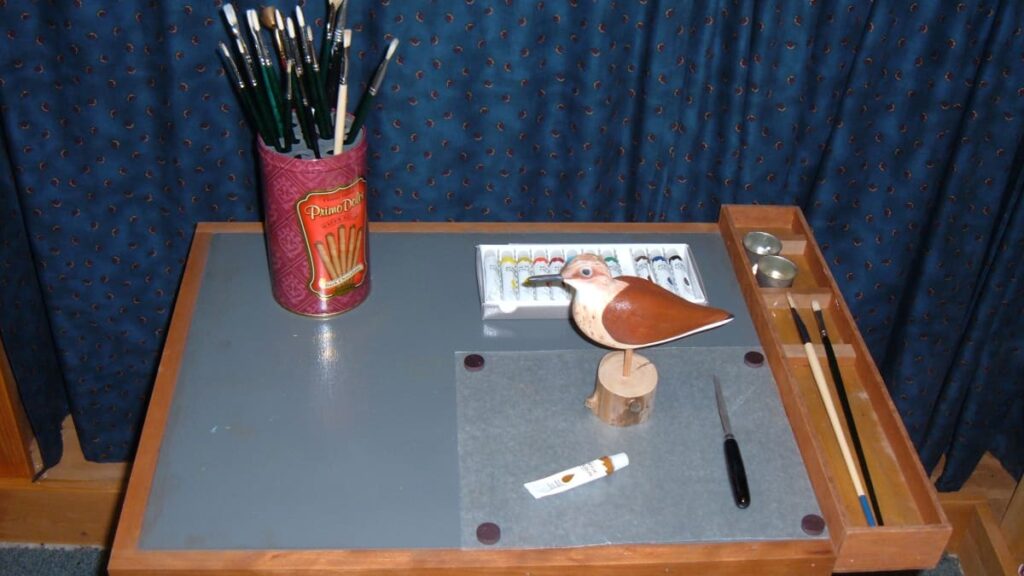 Instructions
Step One. Put all your materials together and cut the larger ones down to the actual size. Also, try to cut the fabric and foam them into the brushes
Step Two. Use the clothespins to clip the materials into a brush. Your brush is ready now
The Importance of painting different textures during childhood
Problem-solving skills. When children manipulate the available materials, they start to understand why certain things happen. One way to solve the lack of purple color is to mix the red and blue colors with a single brush. Depending on the brushes in use, you can even create strips of red and blue stripes.
Physical development. When painting with clothespins can encourage the creation of fine motor development skills and eye coordination. Therefore, the children can learn psychomotor skills when painting because they learn to grasp. Stir, squeeze, and do more both consciously and unconsciously.
Social and emotional development. Art is an excellent way of letting out one's emotional energy in a productive way. When children create textures, they use the part of the brain that enhances the sensory exploration for a better dynamic outlet. Its social skills can also expand for the children to cooperate, negotiate, and share their tools, equipment, materials, and space.
Creative development. Creativity is a great way to encourage your children to better use their imaginations. Not only will they be excited about creating a magnificent piece of art, but they can also use the proper utensils to implement the work. Moreover, children can experiment with trial and error development, develop new ideas, and find the best solutions to environmental problems.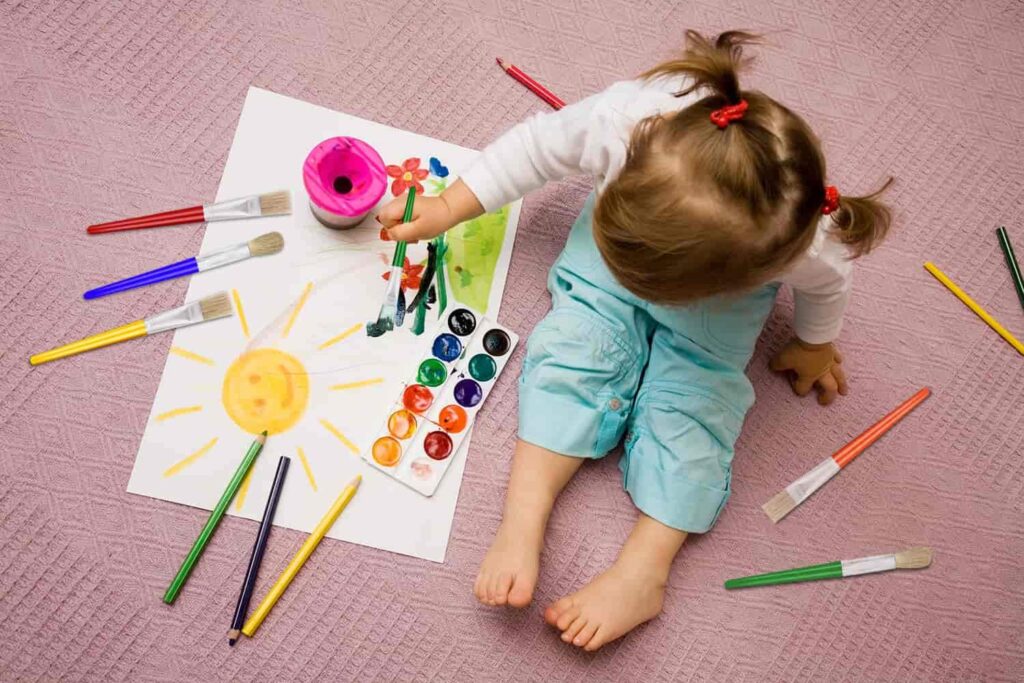 What painting kids like to do most
Some of the best events where kids learn to have most fin are the art ideas as follows
Squirt gun painting
Outdoor painting on a slide
Mess-free painting
In this current season, children will like to maximize the little time they get to spend with their friends and mates. And many fun activities are open to the outside. One of them is to make their own natural paintbrushes from fun materials and use them in painting.
Natural paint Brush materials
Sticks for each paintbrush
Elastic bands or string to aid materials
Poster paint, which is most suitable for kids
A large roll of paper
Many interesting natural items
As an outdoor activity, the first step is to collect any natural item they may see around. And finding these items gives them half the fun. Also, you can go on a walk in the field to see other interesting things they can find. Consider different materials that can get you different textures and patterns when walking. Some pieces of nature can enhance good prints on the board when it is time.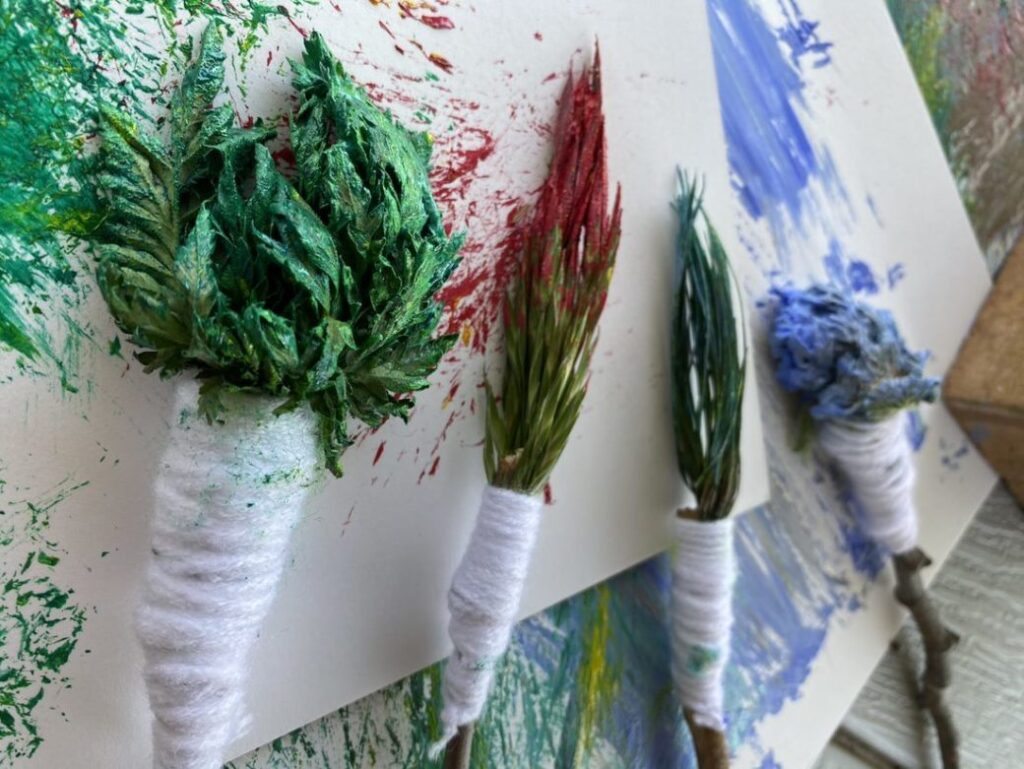 How to make natural paint brushes
The process of making natural paintbrushes is relatively easy. The first thing is to attach the piece of nature to the end of each stick and attach an elastic band or string. Meanwhile, avoid breaking your heart details while tying them up in a single point. If that pattern proves difficult, you can first put the elastic band or strings on the sticks first and start to slide in your natural materials one after the other.
Nature art painting for kids
Take out your large roll of paper and fill some pots with paint to begin work. I usually like choosing 2 or 3 paint colors that can go well with each other rather than form a contrast. But let the child feel complimentary about the choice of paint color that works best for them. Meanwhile, choosing different patterns and textures for the paintbrushes creates a fantastic feeling. You can create other effects and textures by dabbing the brushes on the paper or sweeping them over it. No matter how messy it looks, just keep having fun.
Conclusion
On a final note, as we sit down to solve this problem with children, we must respect their ingenuity, innocence, and craving to explore. When you put this array of textures together using clothespins, the children themselves can come up with what to use. In some instances, they get to choose the right items they feel more inclined to use. This same approach in some formalized system of learning that you allow the kids to pick the tool they find most comfortable and enjoy their time with. We can do the same for kids as well.